Sooner or later it'll be decision time for Gareth Southgate when he comes to assess England's midfield options for Euro 2021. Jason Pettigrove makes the case for Aston Villa's Jack Grealish.
It's long been contended that Aston Villa's Jack Grealish was a 'maverick' type player. A bit of a throwback.
A player with the sort of devil-may-care attitude that would sit him nicely alongside the likes of Alan Hudson, Stan Bowles, Frank Worthington and Tony Currie et al.
It's a throwaway phrase that's only ever used to endorse the narrative that a certain type of player is a luxury. Off-field activities played their part of course, and for that Grealish has little defence.
However, what is conveniently overlooked is that in most cases, these players were, and in Grealish's case is, integral to the form and function of the team. The conduits through which most of the good work flows.
Burnley defender James Tarkowski believes being caught "One vs one against Jack Grealish is probably the hardest thing for a defender in the Premier League right now."

Agree? 😏 #avfc pic.twitter.com/RlAdU16CRV

— Aston Villa News (@AVFC_News) January 11, 2021
The 25-year-old Birmingham native may be the modern-day embodiment, but the condescending term and subsequent way of assessing his suitability for international honours needs to be replaced with simple acknowledgment of what Grealish brings to the table.
Not even Gareth Southgate can come up with a reasonable excuse why the player shouldn't be an England regular now, other than if he wishes to work with a formation or shape that isn't conducive to getting the best out of the midfielder.
For many, a player's worth is measured in statistics. Be they goals, assists, passing accuracy and the like. It's in those numbers where the truth lies. Where the Aston Villa captain's excellence is in black and white for all to see.
Given that he needs to earn an England starting place via the consistency of his performances, let's measure his output to that of his contemporaries.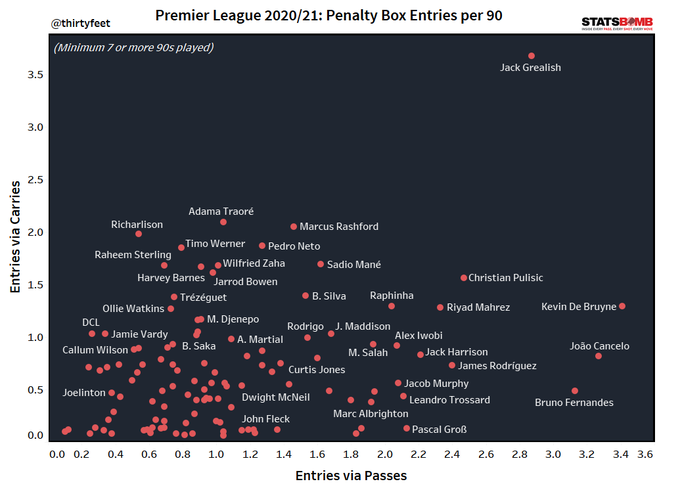 Though Southgate has a plethora of talent at his disposal in midfield, to get a more accurate gauge of his ability, we should take out those midfielders that haven't been regulars for the Three Lions.
For the purpose of this article, we'll pit him against those who are likely to give him the toughest test in terms of cementing a spot in the heart of England's midfield as we look towards the European Championships in the summer: Mason Mount and James Maddison.
Since the beginning of this season, Grealish has scored five goals, provided seven assists and created 55 chances, all of which are best in class.
He is also at the top of the tree for ball recoveries (79) shots on goal (21) and shot accuracy (66.67%).
His 627 attempted passes is only bettered by Mount, and whilst Maddison and Mount's shots on goal are equal to Grealish's, neither has as good an all-round game as the Villa man.
There's an expectation that Phil Foden could stake a claim, but the Man City youngster has played for only 591 minutes this season, less than half that of Grealish and Mount and significantly less than Maddison.
It therefore makes his 88.42% pass accuracy – for example – slightly misleading.
📊Most ball carries into the opposition penalty area (#Uefa's top 5 leagues; 2020/21):

55🕹️: 🔥JACK GREALISH🔥
37🕹️: Kylian Mbappe
32🕹️: Hirving Lozano
31🕹️: Marcus Rashford
28🕹️: Pedro Neto, Lionel Messi, Cristiano Ronaldo, Timo Werner, Gervinho, Henrikh Mkhitaryan#AVFC pic.twitter.com/l4OkVPcql5

— playmakerstats (@playmaker_EN) January 12, 2021
Perhaps we need to also get away from the notion that those players who are employed by the 'bigger' clubs are the ones who'll normally get the nod.
Frankly, if Foden isn't being played at club level, he shouldn't be in the international conversation.
Players deserve to be in on merit, and on that basis, Jack Grealish can't be ignored any longer.