Throughout the Christmas and New Year break, there will be suggestions for a plethora of young players to follow on the PGA Tour from every media outlet available.
Selecting from the graduates and second season players is an almost impossible task but, when it clicks, nothing is more satisfying.
Last season's Player-To-Watch  article put up Mito Pereira, who should have won the US PGA, Taylor Moore (a pair of top-6 finishes) and Greyson Sigg (two top-10s) but that elusive 'W' was missing from the PGA Tour.
18+ BeGambleaware.org
#12 S.H Kim (PGA)
First-season PGA members have won in every year of the FedEx era apart from 2009, and with the highest number of rookies on the scene since 2012, the chances must be that one of the 27 lands a PGA trophy over the next 10 months.
With Harrison Endycott, Ben Griffin and Davis Thompson already on the list of players to follow, there were a few names to be with, although the likes of Dean Burmester and Thomas Detry are hardly 'rookies' in nature to those that have watched them on the DP and South African tours.
Two-time European Amateur winner Matti Schmid was tempting, his huge driving sure to provide the gallery with some fun this year. However, with his tee shots often going awol, this talented German may need the experience of the first season.
Instead, go for a player that caught the eye through his first three outings on the PGA Tour.
Seonghyeon Kim, thankfully better known as S.H, is a five-year professional that looked progressive as he made his way through the first and second tier of Korean and Japan tours, winning once in 2019, 2020 and again in 2021.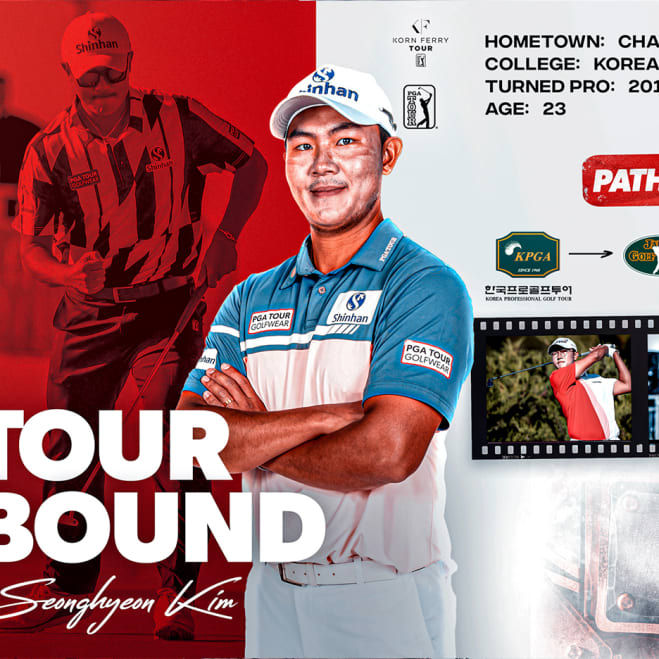 Whilst the latter pair of victories were at the prestigious KPGA Championship (for which he had been a Monday qualifier) and Japan PGA, the winning scores may give more of a hint to where we can make the most of backing the selection.
Perhaps that gives us a clue to the type of player he is. In three victories, his winning scores have been 5, 10 and 13-under, scores that are hardly the 20-plus under the card that some of the lesser PGA events are won in.
Kim's efforts in Japan were rewarded with an invitation to the 2021 CJ Cup at which he finished 32nd, two days after a second round 63 saw him dispute the halfway lead.
Qualifying for the Korn Ferry Tour through Q-school, the 24-year-old then impressed without getting his head in front, with two runner-up finishes, one coming from 18th overnight and the other a play-off loss to a birdie on the third extra hole.
Added to the pair of standout results was a third place in the Bahamas (again from off the pace) and a sixth and 20th place finish when spending June at home in Korea.
Despite that missed month, in which he was absent from four ranking tournaments, Kim finished just outside the top 10 of the end-of-season list, helped by an 11th and 6th at two of the last three 'finale' events.
With nine top-25 finishes, Kim was voted the KFT Rookie of the Year, and now tries to repeat that at the highest level, with the signs looking positive.
36th at the Fortinet after lying third, 11th and 17th through the first three rounds before a 13th placed finish at the Sanderson Farms were indications of his talent, and perhaps he was then worth a pound or two at the Shriners when slightly improving his all-round stats to finish in the top five.
Kim may have missed the next two cuts – at Bermuda and Mayakoba (on the number) – but rounds of 67 and 72, and 71 and 68 are hardly worries, particularly if we retain the thought he isn't suited to a low shoot-out.
There was little wrong in three of his four rounds in Texas, with only a third round 74 spoiling his event, and again he missed the weekend at Sea Island by just one shot, his second round comprising five birdies in an 11 hole streak.
https://www.pgatour.com/players/player.50188.s-h–kim.html
I'm not sure what to take from the limited stats available and, for now, would rather keep the afore-mentioned idea that he wants it tough. Either way, he is now on tour with compatriots Si-Woo Kim, the youngest ever winner of The Players and rising star Tom Kim, impressive winner of the Wyndham and the Shriners in his rookie year, the latter seeing S.H record his second-ever most valued finish (according to OWGR.)
#11 Stefano Mazzoli (Challenge Tour)
The Challenge Tour represents the toughest tour to pick a player to follow. Still, who doesn't love a challenge? (boo, hiss)
The second-tier tour has been the starting ground for the likes of Thomas Bjorn, Justin Rose, Martin Kaymer, Henrik Stenson, Tommy Fleetwood, and even Brooks Koepka, who ripped the tour apart when winning four times before June.
Since 2010, rankings winners have proved victorious on the major tour, with names such as J.B Hansen, Jordan Smith, 'Beef' Johnston and Fleetwood all showing that experience at the graduate level is vital as players make their way up the grades.
Players from the European ProGolf Tour, Nordic Golf League and the now-defunct EuroPro Tour come together, all having shown substantial form at their own level. How they go on is impossible to answer, but one will take his place in the players-to-follow list.
The selection is Italian Stefano Mazzoli, winner of the 2015 European Amateur Championship in his home country and two wins on the Alps Tour over the last two seasons. That top-grade victory came courtesy of a one-stroke win over Gary Hurley, himself a would-be graduate to the Challenge Tour had he not qualified for the DPWT through Q-school in November.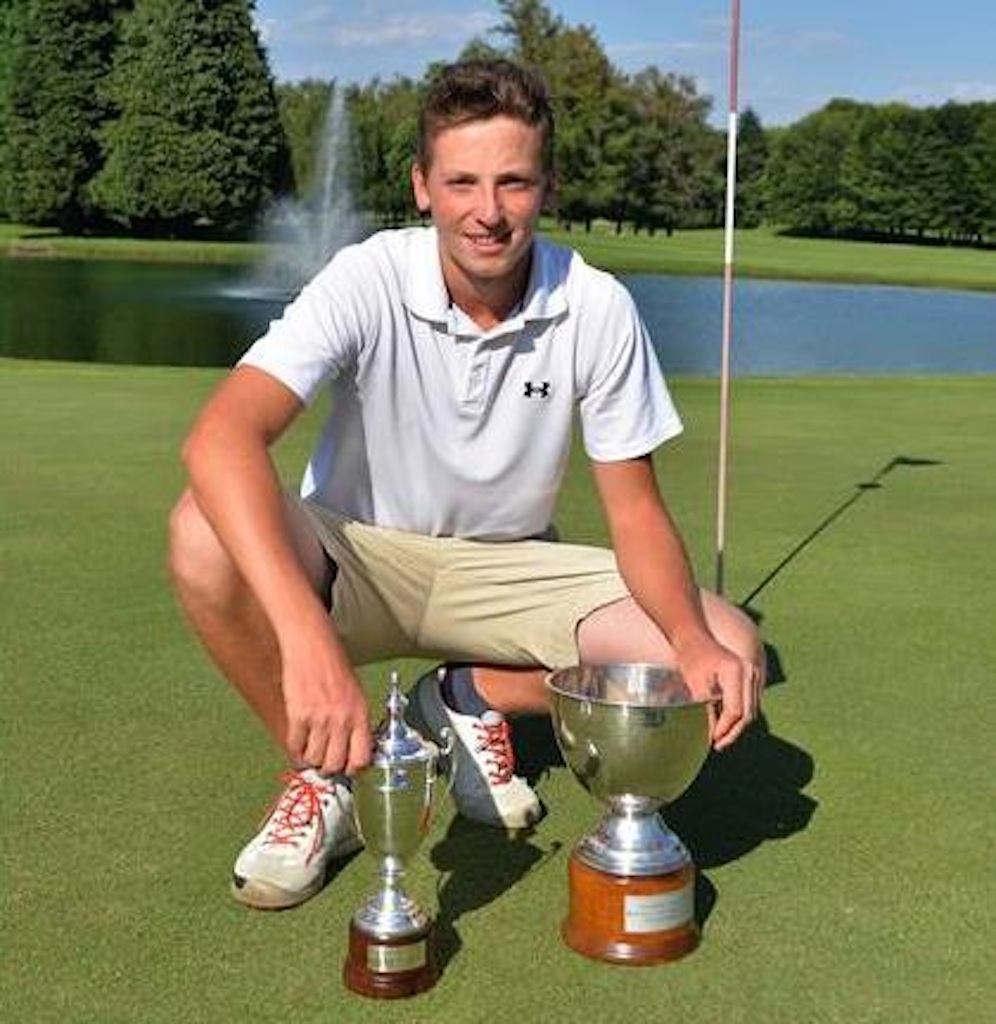 With previous winners of the Alps Order of Merit including Santiago Tarrio (two wins at Challenge level), Adri Arnaus (one win and one on DPWT), and Matt Wallace (one win, four on DPWT) the standard is clearly plenty enough to compete regularly through the season, and with Mazzoli seeming to be improving, I'll take the chance he can win at this level.
I am buoyed by the results since mid-season, and the sequence of 12/8/2/21, that runner-up being behind eventual OOM winner Gregorio De Leo, whilst a 6th place and final runner-up in two of his last five outings is also a confidence boost before the start of the season in February.
The schedule taking in the all-too familiar places in mainland Europe will worry none of the Alps graduates. It's just who and when. For Mazzoli, I hope the answer is 2023.
#10 Davis Thompson (PGA)
The PGA Tour may have lost many of its stars to He-Who-Must-Not-Be-Named, but, my word, there are a host of studs just ready to take their place over the coming years.
In truth, it is very difficult to split the likes of Taylor Montgomery, Davis Riley and Sahith Theegala, let alone graduates Justin Suh, Carl Yuan and Benny-An (yep, the great one is back) but the choice has to be made and the promising 6-foot 4-inch Alabama golfer deserves to be the choice.
Another superb amateur golfer, both for the famed golf academy at Georgia and via making the #1 position on the WAGR, the two-year professional made his way to the top league after a victory and three top-10s in his first full year on the Korn Ferry Tour.
Whilst eye-catching in making seven cuts from 13 starts when not yet a full member of the PGA Tour, his very brief five-event schedule from September has seen him make four cuts, with a best of ninth and 12th at the Fortinet and Shriners, respectively.
At Silverado, the 23-year-old recorded a third-round 65 to leap up from 42nd place, while he was never outside the top-17 in Nevada, results he will surely build on as we start the season proper in a few weeks time.
Sometimes, change is the only way forward.

⛳️ Metronomes
⛳️ Visualization
⛳️ Left-hand-low

Rookie Davis Thompson (@DavisT17) has unlocked his putting through unconventional changes to his approach. pic.twitter.com/ngHhBk5NiH

— PGA TOUR (@PGATOUR) November 15, 2022
My choice of the Davis's is yet another huge hitter, ranking 29th for distance, and yet he improves that standing when combining his accuracy, finding strokes in all his PGA starts apart from the RSM Classic, when showing a minute negative.
Like so many of the bombers, over time he will need to improve the short game a touch, but that's being negative – as always said, if they did everything perfectly, there would be no need for the other 154 to turn up each week.
Given his pedigree, I suspect Thompson wins an event sooner than later, and starting a more attractive price than many, I just reckon we can gain in 2023.
#9 Yannik Paul (DPWT)
As older brother (by one minute) Jeremy makes his way on the KFT Tour, Yannik looks to move on from his debut victory in Mallorca, perhaps enough to gain a spot on the 2023 Ryder Cup team.
To make one of the illusive half-dozen automatic places, or indeed a captain's pick, Yannik will need to better an impressive debut season on the DP World Tour, but that is something I think he is very capable of, in the way that Rasmus Hojgaard or Jordan Smith have done.
A member of the German team that took part for three years in a row at the European Amateur Championship, and a high-level university golfer (who isn't these days?), Yannik's two -season spell on the Canadian tour yielded no victories, but he yielded 11 cuts from 13, including a run of nine.
The Covid year saw Paul concentrate on the mini tours in the States, winning the Arizona Open in his home state of Colorado and recording a final two rounds of 64/64 to win by a couple of shots.
In his first year on the Challenge Tour, Yannik finished 9th on the rankings list after impressing with a runner-up, third and six further top 10 finishes, the best of those when tied with two others at the Grand Final, beaten a single stroke by #5 Player To Follow, Marcus Helligkilde.
That form has now continued for much of 2022, with a victory, runner-up and four top-10s on the DP World Tour sitting alongside top-20 finishes at the co-sanctioned Barbasol and Barracuda and a 17th at the KFT finale.
Yannik started the season with consistency and it's never really left him, his final stretch of events (from September) seeing him record nine cuts from 10 starts, including a top-30 at Marco Simone, host of the 2023 Ryder Cup. Two further top-10s, at former RC venue Le Golf National France and in Spain, three top-25s and, of course, victory at the Son Muntaner Golf Club when proving bar far the hardiest out of the half-a-dozen players that were in contention.
There can be little more satisfying than making a birdie on the 72nd hole of a tournament to break up a potential three-way play-off, and Yannik wasn't scared to show his emotions:
The German's consistency is impressive, having not let either victory or failure affect his game, has a tee-to-green and short game that should keep him there or thereabouts at most events at this level, and it will just be that one or two strokes of fortune that make the difference. Get those and he'll be the next representative at the Ryder Cup from his country after Martin Kaymer.
#8 Chris Gotterup (Korn Ferry Tour)
Whilst the books may limit betting opportunities on the KFT, there is no reason many of the classier players won't earn invites or play their way into half-a-dozen events at the top level.
Either way, it is very easy to build a case for the huge-hitting ex-Sooner, one of the best university players of his generation.
Transferring to Oklahoma for his final year, the now 23-year-old was ranked the undisputed #1 golfer in the country after two victories at the prestigious East Lake Cup and Puerto Rico Classic, as well as runner-up in the Big 12 and NCAA Championships. Those results led to being awarded both the Haskins and Nicklaus Awards, previously won by the likes of Tiger, Lefty, Patrick Cantlay, Justin Thomas and more recently by tour winners Matt Wolff and Sahith Theegala.
That should have been enough to catch the eye, but on his return to Puerto Rico as an amateur on the main tour, he was never out of the top seven places after finding eight shots on the field for tee-to-green.
Turning pro soon after, he made the cut in the U.S Open at Brookline, where he noticed that thin line between the average and the top-grade player.
"On the driving range that week you've got… you name it, and they're not that different than you are. They make more putts per round, maybe they hit it 10 feet closer a few times, everyone is so close. I definitely learned that week that I could play in front of whoever it was." 
A solid 35th at the classic River Highlands preceded his best finish thus far on tour, a tied fourth that should have been better but for missing vital putts after another impressive drive and iron performance.
Three further cuts were not enough to retain his card whilst he also missed cuts at his last two KFT events of the season.
Gotterup played a trio of final shots at the Fortinet, Shriners and RSM, where despite making all three weekends, only a top finish was going to suffice. In between, the Maryland born pure striker led the KFT qualifying school down the stretch before a double-bogey on 15 cost him the advantage, ultimately finishing in third and 12 guaranteed starts this year.
There is little doubt that Gotterup has the game for the tour, reminding me very much of Theegala, previous winner of all three of the top college awards, and it will be simply just how quickly he can adjust from college golf – find the pin and putt it – to tour golf.
Gotterup will be on the main tour, most probably in 2024 after gaining his card at the graduation level, but the experience he has picked up will be the vital key over a few graduates inexperienced in life on tour and a few that are seeing their third or fourth life here.
"(Pro golf) is the same as college… but it's not. I figured how to play and how to score, and then you had to re-learn it all even though it's golf. It's a different mentality."
He'll have to calm that, "I just make as big a turn as I can and let 'er rip!" attitude when he makes the PGA, but it might work just fine through the first half of this season.
#7 Ben Griffin (PGA)
Amidst the constant changing of qualifying rules, try to keep it simple for the players that have stepped up from the Korn Ferry Tour.
There are a few familiar faces in the lucky 50 to gain either automatic qualification via the grind of the yearly graduation tour, or via the three events of the final run of three events.
Many of these will take advantage of the welcomed boost in guaranteed earnings, but a few will see this as the start of a long, and lucrative, PGA Tour career.
Among those, former mortgage loan advisor Ben Griffin may be one to take early advantage of his brief spell on the PGA in 2022.
After a classy college career at North Carolina  – home of Davis Love III and Ray Floyd – the now 26-year-old made an immediate impact on the Canadian tour, finishing in fourth place before coming from off the pace to win the Staal Foundation Open five weeks later.
Then, for whatever reason, the game just went.
"You know, during Covid I didn't have status on the Korn Ferry Tour or the PGA Tour and it's very difficult unless you have sponsors or a support system that can kind of help you get back," he told the media earlier in 2022.
Whilst he "felt like I always had the game," the financial pressures ("I didn't want to rely on my parents anymore for everything,") meant getting a desk job until fate played its hand.
The story goes from a missed opportunity to qualify for the 2021 U.S Open to the backing of investment company Lord Abbett, whose sponsorship alone allowed the talented Tar Heel to qualify for the 2022 KFT season, where three runner-up finishes and two further top-10s meant he had secured his PGA playing rights by the end of June.
An early outing at Sedgefield saw him fly through the pack from halfway, a 64/64 weekend ensuring 4th place, ranking 10th for tee-to-green after hitting 26 of the final 36 greens on the number.
We can risk saying there was a lack of purpose for a few weeks as he took part in the last few KFT events, but his brief PGA career has started with immense promise.
After missing the cut at the opening Fortinet Championship, Griffin lay inside the top-10 at the halfway mark of the Sanderson Farms, recovering again on Sunday after a third round 73.
There wasn't much wrong with the effort at the Shriners, where three rounds under 70 were not enough to see him inside the top-30, but after two weeks' rest, he was in position to win the Bermuda Championship at the end of October.
Griffin went into the final round tied with proven PGA Tour winner Seamus Power, finding himself in front with eight holes to play.
I'll let PGA Tour tell the story:
"…as winds whipped at Port Royal GC, Griffin met his learning curve. He made four consecutive bogeys on Nos. 12-15–including a hooked tee shot and unplayable on the par-4 14th–followed by a costly hooked tee shot into a penalty area on the long par-3 16th en route to double bogey. He finished with a 1-over 72 and 17-under total, two back of Seamus Power's winning total."
Naturally, whilst disappointed, Griffin saw the huge merit in this effort, commenting:
"… honestly, I need to be almost a little less comfortable in certain situations, because I need to make sure I'm executing and being confident with my swings. I just let a couple get loose and I missed it on the wrong side on a few holes down the stretch, would short-side myself downwind with chips and couldn't get it close. I just put myself in too many difficult spots to come out as the champion this week."
Given he's only been back full-time for just over a year, the efforts at Sedgefield and Port Royal, show he has still has the game and attitude to make his way in 2023.
Finishing results for the year were also progressive enough, with three made cuts that include lying top 20 after the opening round at Mayakoba, never being out of the top 16 at Houston and being in second place after the first round of the RSM Classic (finished 29th) in an event that took place just days after he felt ill.
Ranking an average of around 21st for both approaches and tee-to-green in his five most recently completed starts on tour, Griffin can call on the times he was playing with the Schefflers and Morikawas of the golfing world.
He may never reach that class, but we just need one win to make the 'follow' pay!
#6 Pauline Roussin-Bouchard (LPGA)
The second of the LPGA players to watch in 2023 is former amateur star Pauline Roussin-Bouchard, who caught the eye a few times during her rookie season.
As a non-professional, the Montelimar-born spent 34 weeks as number one in the World Amateur Golf Rankings in 2020, an honour previously held by the likes of Lydia Ko, Atthaya Thitikul, Minjee Lee, Brooke Henderson and Leona Maguire.
That career included multiple individual and team victories, and also a runner-up at the Jabra Ladies Open on the Ladies European Tour, where she led into the final day before being beaten by a single shot by former UK amateur star Annabel Dimmock. In her final year as an amateur, Pauline made the cut in her first attempt at the U.S Women's Open, finishing inside the top-50.
Representing the South Carolina Gamecocks in her college years, Pauline recorded an impressive university resume, something she can continue to build on when residing in the same State.
Turning pro in 2021, Pauline won on just her second start, at the Skaffo Open in Sweden, beating Magdalena Simmermacher and Linn Grant by a shot, the latter subsequently winning the event a year later and proving to be top-class on the LET.
Subsequently, the now 22-year-old entered the gruelling eight-round LPGA Qualifying school, leading at halfway before finishing runner-up to Na Rin An, with 2022 LPGA winners Atthaya Thitikul and Ayaka Furue behind.
Pauline's first season was very satisfactory with a best of 6th in Michigan (led for the first two rounds; rounds of 61 and 63 on Friday and Sunday) and a pair of top-20 finishes in two of her last three starts.
Through the Aramco series Pauline finished in front of Jessica Korda and Linn Grant at Sotogrande, ultimately beaten three shots by Jessica's sister and world number one Nelly, and in October recorded a 15th place behind the top-grade Lexi Thompson and Brooke Henderson in New York.
A little bit of @pauline_roussin magic 💫#RaiseOurGame | #BringTheEnergy pic.twitter.com/dAfYuWvqYe

— Ladies European Tour (@LETgolf) October 14, 2022
Ultimately, when finishing 69th in the rankings, Pauline comfortably retained her card for 2023, posting on her Insta account:
First year on Tour in the books 🥂
As well as…
28 weeks on the road ✔️
11 States ✔️
7 countries ✔️
It was a grind… a year full of emotions from tears to my biggest laughs! As tough as it was, I loved it, I love it and I am looking forward to many more years on @lpga_tour 🔥
To my team and sponsors, my family, my Batman, and my tour family (you guys know who you are 😜), thank you for helping me out and supporting me every step of the way 👊🏼
With European players Nanna Madsen, Leona Maguire, Maja Star, Charley Hull and Gemma Dryburgh winning on the LPGA tour last season, things look good for the future from this side of the pond. Whilst this long-hitter will need to tidy up the accuracy a touch, she has done it before at a lower level and will surely be inspired by compatriot and previous amateur number one Celine Boutier's two previous LPGA wins, and her 12 top-10s last year.
#5 Marcus Helligkilde (DP World Tour)
After three wins on the 2021 Challenge Tour, the Road To Mallorca champion was on everyone's lips as the DP World Tour began in Abu Dhabi in January 2022.
A former amateur star, representing his country at the Eisenhower Trophy and European Amateur Team Championship, Helligkilde breezed through the Nordic League before winning three times in his second try on the Challenge Tour.
The 25-year-old took his time to hit full stride on the main tour before finishing strongly in Qatar, a final day 69 launching up up the board from outside the top-50 to 12th place, but as he looked to be getting to grips with the higher level, revealed on social media that:
"After months of back and shoulder pain, I decided to start a treatment that will take me off the course for the next months.
I realised it was time to act during the #ISPSHandaChampionship when I had to withdraw.
I hope in a speed recovery, and I look very much forward to coming back happier and healthier." 
Missing all of May and June, the Dane returned for the Irish Open, warning that, "An injury is not a process of recovery, but a process of discovery. I am not 100% yet, but I look forward to have fun at the @irish_open @dpworldtour." 
There was certainly enough encouragement at Mount Juliet, when lying just outside the top-20 at halfway, but it wasn't until the co-sanctioned (with KFT) events in Kentucky and California that we saw the Dane at his attacking best.
Among a large amount of DPWT players, Helligkilde recorded 16 out of 18 greens-in-regulation on his way to a bogey-free third round of 66 before following up with the same figure on payday, resulting in a move from 64th at halfway to 8th when the cheques were being handed out.
The following week, the Dane was never outside the top-22 in finishing 13th at the Barracuda, both weeks suggesting he was close to being back to his best.
By mid-August, most players will know what they must do to keep their cards and avoid the horror of Q-school, and Helligkilde was rightfully motivated to play well at the ISPS Handa World Invitational at Galgorm Castle, hosted and sponsored by his management team, Modest! Golf.
By finishing 4th in Ireland and 8th in his home event, the 'Made In Himmerland', Helligkilde showed he can perform when necessary, his top-30 at the Spanish Open enough to secure a place inside the top-100 on the Race To Dubai.
The Dane is far better than that number and, now injury free, is hopefully in a position to show his best.
Helligkilde openly states that he is very analytical – "I'll plan exactly how many golf shots with technical focus I'm going to hit. It might be 10/10 shots with technical focus or it might be functional practice with certain clubs," he told the DP World Tour blog, whilst also confirming he takes emotion out of the round.
"What I try to do is to be so statistical and deliberate with everything I do in the lead up to every round, that when I go onto the course there are no emotions or feelings behind every shot, because I know exactly what the statistics say I should do," he said.
With an intention to hit the middle of every green rather than go pin-hunting, this long-driver just needs an improvement in his putting to put himself among the best on the tour. That best may be found in Spain, where he has a record of two wins and four top-10s on the Nordic League and a victory and runner-up on the Challenge Tour.
Keep your eye on his socials, because if he is again fit and healthy, he can join a Danish list of first-class golfers such as Thomas Bjorn, Soren Kjeldsen, Lucas Bjerregaard and, of course, the Hojgaard twins, winners of five events between them since 2019.
#4 Hae-Ran Ryu (LPGA)
Of all the main five tours in focus for this feature (DP, PGA, KFT, Challenge and LPGA), the most interesting for me is the LPGA. With the ladies game gaining increased prize-funds and coverage (though not nearly enough) and genuine contenders from almost every corner of the globe, limiting players to watch from the qualifying schools is damned tough!
With the top 12 in the Rolex rankings coming from 10 different countries, the days of American and Korean dominance may be over, making it a far more thrilling tour week-on-week-off but also requiring a tad more work each week.
The 2022 Players To Follow list fortunately included the rookie winners of the Women's Scottish Open winner Ayaka Furue (50/1) and the Drive On Championship, Leona Maguire (40/1), so roll the dice and on to the first player to follow through 2023 and beyond.
It would be easy to advise to get on Atthaya Thitikul every week, with the 19-year-old looking as if she will produce fireworks over the next few years. However, that means taking around 16/1 each week.
Hardly exposed, the 2022 Rookie of The Year is going to the very top after a first season that took in two LPGA play-off victories and three top-10 finishes in the five majors, the other two placings being 17th and 24th. But this column isn't about that. Let's get exotic!
21-year-old Hae Ran Ryu went into the recent eight-round LPGA Q-school having been one of the very best amateurs of her era, and having finished 16th in her home Open and qualified for the US Women's Open when just 15 years of age.
As a non-professional, the South Korean star finished 8th at the Jeju Samdasoo Masters, an event she would go on to win in 2019 in a shortened two-round event.
Turning pro later that season, Ryu defended her title as a rookie on the KLPGA Tour, finishing three ahead of 2019 US Women's Open champion Jeongeun Lee6, with the illustrious names and former major winners Inbee Park, Jin Young Ko and So Yeon Ryo behind.
Whilst that was the highlight of the Covid-affected 2020 season, Ryu went through 18 events that year without missing a single cut, ending the year with a 13th at the US Women's Open in Texas having been inside the top-10 after three rounds.
Whilst she couldn't repeat the 2020 end-of-season ranking of number two, a year later Ryu won twice in a run of 15 straight cuts, and recorded eight further top-10 finishes.
She got busier over the last season, playing 29 times and recording one win and an incredible 16 top-10s, including a run of 17 consecutive weekends, so an entry into LPGA Q-School was clearly the next step.
Ryu was on a list of three or four possibles for this article, and as she moved into contention after a fourth round 65, her name went to the top of the list, with a mental plea to hold on, given they had played just half the tournament.
I'm not sure whether to laugh or cry and her eventual two-shot victory.
Laugh as she showed her current well-being with 12 birdies and just two bogeys through her final two rounds, but cry as it meant her name being a touch more known in golfing circles.
The now-LPGA rookie has a great attitude to her career, saying after the defence of her Jeju Samdasoo Masters that, "what I want is rather than being a player who just quickly rises and fades away, I want to make my way up slowly and be remembered by the fans longer. And I'll be trying hard to achieve that."
Fast-forward a couple of years and she clearly retains the enthusiasm for the task ahead, saying after her latest victory that, "It hasn't been that long ago since I was a rookie on the KLPGA, so to be a rookie once again feels new. I think with more time it would feel more real, and I look forward to playing with some of the best players in the world."
I'm looking forward to it, too.
#3 David Ravetto (DP World Tour)
With a myriad of promising players qualifying for the DP World Tour from the Challenge Tour, it is going to be that 'je ne sais quoi' that differentiates the winners from the 'oh-so-close'.
Backing up Tom McKibbin with just one player is going to be tough, so I have selected two names to produce a strong team to follow through 2023 and the years beyond.
25-year-old David Ravetto is yet another to come to the professional ranks after an impressive amateur career that included a win at the national amateur stroke play championship in England – the Brabazon Trophy – as well as a fourth place behind Matti Schmid at the elite European Amateur Championship.
In-between, Ravetto won and strongly contended in several collegiate events for the Texas Wesleyan Rams, in 2016 being the first Ram to earn medalist honors at the National Championship, and being the winning nomination for the prestigious college awards, the NAIA Phil Mickelson Outstanding Freshman Award and NAIA Arnold Palmer National Individual Award.
Of course, we have seen these players come and go, many never approaching the status that appears set out for them.
In Ravetto, though, we have a player that has just had a couple of seasons as a professional and, judged on his latest efforts, may be a rewarding play at large prices over the next few months.
A promising player on the Alps Tour, finishing 13th in stroke average (of 200-plus competitors) after just 17 rounds in 2021, his first spell on the Challenge Tour saw him play 17 times, recording 13 cuts that included a pair of top-10 and top-20 finishes, leading to a finish just outside the top-50 in the Road to Mallorca standings.
2022 started with a promising 13th at the Di-Data in South Africa in a good-class mixed tour field, before tying in 7th with Tom McKibbin in Durban, but then it all went a bit skewed.
Ravetto saw his game fall away between March and July of this year, with nine missed cuts seeing him fall outside the world's top 750 players, before, almost predictably, getting it back when returning home for the Le Vaudreuil Challenge and finishing just off the top 20.
A poor follow-up round spoiled a good opener in Germany, but since the Irish Challenge in July (seventh into payday, finished 17th), the Frenchman made nine out of his last 10 cuts on the Challenge Tour with the top-30 in the finale just not enough to secure his card automatically.
Shrugging off that disappointment, Ravetto went on to the gruelling six-round Q-school, impressing in the final round, when a bogey-free 7-under was plenty enough to finish a two-shot second place.
Ravetto's progress over the first three events of his top-level career have been progressive without catching too many eyes – perfect for a coup – with form trending from a missed-cut in Joburg, to 30th at the South African Open and a bit of a quiet but noticeable 9th last weekend at the tough Leopard Creek.
Ravetto was rightly pleased with his six-birdie 5-under opening round and didn't go far away with his repeat score the following day, despite his reservations about the early tee-time.
Inexperience in the mix at this level was no doubt to blame for a third round that again recorded six birdies, but this time he added two bogeys and a pair of doubles to his card, falling away to (a still satisfying) 10th. Impressively, though, he bounced back on payday, recording a better than field-average 3-under that again included half-a-dozen birdies, on his way to his first top-10 since being beaten in a play-off in Portugal a couple of months ago.
Ravetto was impressive in the tables last week, a combination of 16th for tee-to-green, top-10 for his short game and a decent flat stick leading to an encouraging ranking of 7th for total strokes gained.
Judged on his run of form on previous tours, there should be more to come over the next few weeks, let alone the season ahead.
#2 Tom McKibbin (DP World Tour)
Scot Ewen Ferguson was the hero of last year's Players To Watch list, winning at Qatar at 150-1 and at Galgorm Castle, where the bookmakers were more respectful, putting him in at around 22/1. He then should have won his third of the year in Himmerland (45-1) only to be ousted by a career-putting effort by Oliver Wilson.
Let's hope for the same with the more obvious of this year's DP World Tour selections – Tom McKibbin.
Coming from Holywood brings a sense of foreboding, as surely he will rarely escape the comparisons to that Northern Irish town's most famous son, Rory McIlroy. The 19-year-old isn't at all fussed, though, telling Irish Golfer, "I try not to read much about myself or anything like that. I've heard the comparison since I've been nine or 10 years old, so if anything, it's got a little old now."
Ignore that and we have one promising player, and one that has broadcasted his ability for a few years, despite his current age.
An outstanding junior and amateur, McKibbin had verbally agreed to a move to the University of Florida before Covid ruined those plans and, it seemed, the 2021 Walker Cup, an event he was almost certain to be selected for.
Again, this is a cool head on young shoulders – "It meant I got off to a bit of a head-start in pro golf. I don't think Walker Cup would've been much of a benefit and I haven't really thought much about it since."
So, let's talk about the play.
In his first year with limited status and invites, the JMC-managed player recorded a 12th and 16th at Challenge Tour level before a 26th place at the higher level at Galgorm Castle (11th and 20th after the first two rounds)
That gave McKibbin entry into a few of the better Challenge Tour events, and he has taken advantage in style.
The beginning of the year saw the traditional exodus of trophy-seekers to South Africa, and McKibbin took a lead into the final day of the Cape Town Open before finishing in third place – "I played fine, did the same things I did the first three days, it just wasn't meant to be. I didn't tense up or anything like that. I thought I did the right things. It just didn't pay off."
A week later, he finished seventh after a level-par Sunday would never be enough to exploit an overnight position in the final group, but the experience would be yet another notch on the post.
The second half of the year was to be McKibbin's highlight, with 14 events played from July onwards, rewarding him with six top-10s, including an almost repeat effort at Glagorm Castle, behind our own 2022 hero Ferguson, and three top-20 finishes.
To conclude his season, a sixth place at the Challenge Tour Grand Final would leave him in 10th place on the CT rankings and a full DP World Tour card, something he has already exploited, despite the promise of huge things to come in 2023.
The new season has started in an encouraging style.
In two events in South Africa, the future star has finished 18th at Joburg and, two weeks ago, 15th at the South African Open, where at both he bounced back from average third rounds to rebound up the leaderboard on Sunday.
After already impressive figures one level down, he led the figures for off-the-tee at the Galgorm, where he was also fourth for tee-to-green, and has continued this through the top ranks.
Iron play was off at Joburg but he used a stellar short game to finish 13th for strokes-gained-total, and whilst he lost shots off the tee at Blair Atholl that should have caused issues around that monster of a course, he ranked fourth for tee-to-green play, finishing 12th in total strokes gained, helped by this hole-in-one.
There is very little weakness with McKibbin's game, and with some mentorship by Rory himself, and with a top-class caddy (ex-pro Chris Selfridge) on the bag, expct big things in 2023 and beyond
McKibbin is something special, and we need to be on before everyone knows it.
Even Padraig Harrington, golfing legend and close follower of all young Irish golfers, says "He'll win quick.",
He plays this week at the Mauritius Open. Don't miss him.
#1 Harrison Endycott (PGA)
This season, likely candidates include Taylor Montgomery, Davis' Riley and Thompson, Sigg (again) as well as a mix of KFT qualifiers, but we'll get a bit more exotic with the first pair of nominations, the first being Harrison Endycott.
The 26-year-old was top grade as an amateur in his home country, winning four prestigious events in nine weeks and mixing it with the likes of Min Woo Lee, Curtis Luck and Blake Windred, all of whom at the time were, and are, expected to pay their way in professional ranks.
In the same year, the Sydney-born player was runner-up at The Players Amateur before winning the elite Porter Cup and being part of the victorious three-man Australian team at the Eisenhower Trophy, played partly at El Chamaleon, scene of the Mayokaba events on the PGA Tour.
He is open about the struggles to overcome the death of his mother when he was just 15, and his battle against depression during the subsequent years but has fought his way on to the top level the 'old-fashioned' way, working through the grades.
"I was uncoached to deal with it," he told the Australian news site aapnews.com.
"I really struggled from the ages of 18 to 20. I really suffered harder depression. I even had challenges after 20. It led to some really poor decisions that hurt my golf. At the time, golf didn't really matter to me."
All that personal turmoil makes his journey that more admirable.
From 2018 to 2020, Endycott mixed good finishes on his home tour and the PGA Tour Latinoamerican, including a pair of runner-up finishes at the Victorian Open and Queensland Open, and 28th at the 2018 Australian Open. In South America, he landed six top-10 finishes before qualifying for the KFT Tour at the final eligibility stage.
2021 saw some early promise in a fifth place in Louisiana and a 4th in Knoxville (behind Sigg) and whilst he backed those up with a 13th and 17th place finish, the second half of the year was a disappointing washout.
There is little substitute for hard work though, and after a promising start to 2022, he finally won his first KFT event coming home five shots clear at the Huntsville Country Club. Adding two top-10s and a further pair of top-20 finishes meant he could safely withdraw from the finale, having already secured his PGA Tour card.
The first of our players to follow wasted little time making his mark at the highest level, finishing tied-12th at the Fortinet in California, a joint best-of-the-day 65 launching him up the board on day three.
A month later, Endycott started the Bermuda Championship with a pair of double-bogeys before signing for an opening nine-under 62, the catalyst for another career top-10, and lately he overcame a poor opening round at his home PGA Championship (111th) before flying through the field as the event progressed, finishing a never-nearer 18th behind Cam Smith.
Even the missed-cut at the Australian Open was not devoid of promise, an opening 68 seeing him start the second round in 7th place.
With a pedigree in Australia and a residence in Scottsdale, it may pay to be with a player that should relish it when it gets a touch windy. Whilst he may need a bit of careful handling, he is also not the sort of flashy player the bookmakers will latch on to, even if he can bosh the ball off the tee.
Make it pay!