From my favourite course on the calendar to a brand new track, with the addition of a downturn in class.
After Adrian Otaegui's incredible six shot victory at Valderrama, we arrive at Son Muntaner Golf Club, a resort course that seems to offer nothing approaching the test of last week. Indeed, whilst the amateur players give it a thumbs-up on most review pages, the fact remains it is flat, open and with large greens. 20-under ahoy.
*Prices subject to fluctuation and availability.
18+ | BeGambleAware.org
The last couple of weeks have been good for this column, with a couple of confident wagers being handsomely rewarded.
However, with players fighting for their place inside the top-117 on the DP rankings, and the prospect of this turning into a birdie-fest, it wouldn't surprise if the classier types dominated the board, nor if a maiden finally limped over the line, as Jeff Winther did at Santa Ponsa last year.
It's hard to see last week's hero, Otaegui, going back-to-back after such an emotional win, but he was that superior to everyone else that this could be a walk in the park for a player that continues to show top class tee-to-green play, and whose putting allowed him to find almost 13 shots on last week's field. 18-1 is not 50, though, so the likely comedown from this ex-LIV player is just enough to put me off.
Instead, plump for a couple from the top on a win-only basis, both of whom could take this short 7000-yard course apart.
Ryan Fox calls himself on a course that will reward his length off the tee, and having now firmly established himself as a two-time winner on the DP World Tour, can ease his way around this track without too much pressure.
A winner at Ras Al Khaimah and at the Dunhill Links, Fox has always been at his best when he can open up on wide fairways, and whilst that has ever been the case, he is a much improved putter these days meaning he should take advantage of the five sub-400-yard par-4s and the three reachable longer holes, especially as many of his better efforts this year have been in far better grade.
After a season that has seen him record those two victories, three runner-up finishes, a third and two further top-10 finishes, Fox currently lies fourth for tee-to-green and second in strokes-gained-total for the season. There was no shame in the Kiwi missing the cut on the number at Valderrama last week and can take the opportunity to move closer to the only two in front of him in the rankings – Rory McIlroy and Matt Fitzpatrick – neither of whom likely to tee it up on this side of the world until the season finale next month.
Back the multiple champ up with two younger players for whom this looks a great chance to break their duck.
"I know that I am on an upward trajectory. It sounds simplistic but ultimately it is about getting better year in year out, rather than look to make enormous leaps. The mindset of incremental gains is what I have done so far in my professional career, and I am confident I can continue to do so. I am now playing in Majors so something must be going right! It is an exciting time personally."
Richard Mansell
27-year-old Richard Mansell has an unfortunate connection with Fox, having held a four shot lead going into the final round at St. Andrews and co. and can take encouragement from his 37th at Valderrama on a course that could not have suited this bomber.
In just his second full season on the DP Tour, the man from Cannock has risen from a world ranking of around 400 to his current status just inside the top 200, though it could have been an awful lot better.
In his last 40 starts, Mansell has held mid-event top-10 positions in 14 events, including at Mallorca last year when sixth at halfway, and this year at Crans, Himmerland, Dunhill Links and last week at Valderrama, when 15th at the cut mark.
Leader in off-the-tee stats for the year, this hugely talented player is in the top-10 for tee-to-green and strokes gained total, and is another for whom this track should prove simple target practice.
Mansell's well-documented issues lie with what happens after his second shot, and he could be another Laurie Canter – massive game but without the fortitude to win. I prefer to think of him as a Winther, and with the ability to convert one of his many top-10s into a victory.
I'm back in again on Yannik Paul this week after a 21st place finish last week, a result that looked as if it might be far better at the halfway stage, when a second round 68 took him a hair outside of the top-10.
There is little to add to last week's paragraphs:
After six top-10s on the Challenge Tour last season, Yannik finished with a one-shot defeat by Marcus Helligkilde at the season-ending Grand Final, and therefore qualifying for the top league.
A few weeks later, the former University of Colorado student finished top-10 in the rain-affected Joburg Open before top-10s at the ISPS Handa at the Infinitum course, Tarragona (Otaegui in second) and subsequently joint-runner-up at Soudal in Belgium (see Otaegui again, tied with Ryan Fox, with form around Valders and strongly fancied this week).
Recent form is again encouraging, with a pair of eighth place finishes in his last three starts, in France and Spain again, whilst the missed cut that sits in-between the two was courtesy of an 81 in the horrendous conditions of a Friday at the Dunhill Links.
Rather like a pro golfer on the tee, don't look at the nasty stuff, look at the positives, and 68 and 67 for two of the three rounds of the rotation in Scotland are perfectly acceptable, giving him a recent set of very acceptable results that include a top-20 at the Korn Ferry Tour Championship.
Yannik is improving all the time, has top-20 tee-to-green figures, ranks 11th for scrambling and 7th for total strokes gained over the season, easily good enough to compete here, and can land his fifth top-10 in Spain from nine starts, with last week's 21st and a previous 23rd thrown in for good measure.
Punters must get frustrated with Romain Langasque, a player who looked as if he must kick-on after his victory at Celtic Manor in 2020, but who seems to have lost something for the moment, perhaps and hopefully temporarily.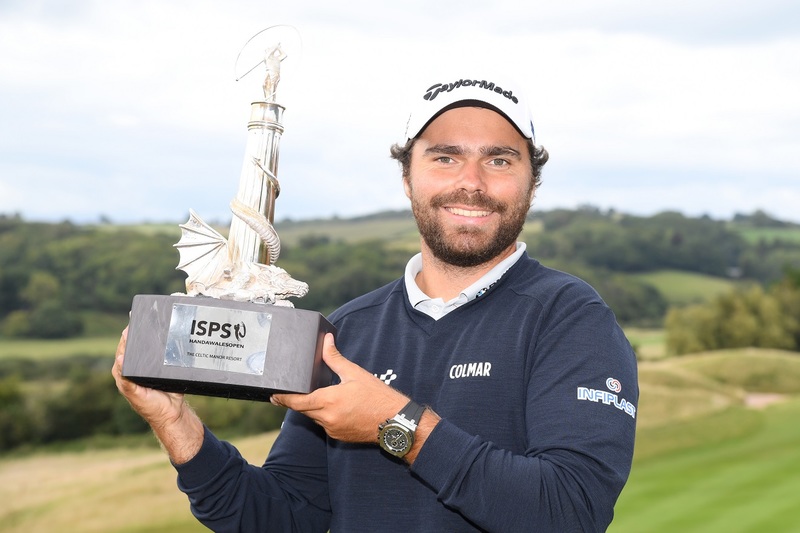 The Frenchman hasn't done an awful lot since eight consecutive cuts through the middle of the year, with his three top-10s finding him finishing all to late and never nearer the lead. There was encouragement in his 14th at the Hero Open at Fairmont when a poor third round 75 knocked him way out of the top-10 before recovering well on payday, and recent efforts are a tad better than the figures suggest.
At the Dunhill Links, the 27-year-old shot an 11-under 61 to tie the St. Andrews course record with a final six holes that contained five birdies and an eagle, and whilst the eventual winner was lapping the field last week, Langasque's third round 69 lifted him up to just outside the top 20 going into the final round.
It's not perfect golf by any means and there is a concern with what has happened to his long game, but on a course that will be as forgiving as a benign St. Andrews, perhaps that will be the catalyst for a return to form for the high quality 2015 Amateur Championship winner.
Finally, let's row in with the thought that those on the mark for their card will try awfully hard to get something out of the next couple of weeks, starting now.
Right at the bottom, at number 117, is two-time Challenge Tour winner, Darius Van Driel, and whilst the Dutchman has two more missed-cuts than top-10s this season, some of those better finishes read nicely in the context of this event.
2022 started slowly, but a top-10 in Germany followed a fourth place finish in Sweden, both results that would be good enough to contend here. In between three missed weekends, the former high-quality junior racked up three decent finishes at Hillside, Fairmont and Crans, before again losing form and being dq'd at the Dunhill Links.
With just a few weeks of the season to go, much of that could have left its mark, but Van Driel has fought back over the last two weeks in Spain, finishing 8th at Club De Campo before hanging around the top-20 for all of the Andalucía Masters.
While expecting a long driver of the ball to dominate here this week, Van Driel does nothing either spectacular or disastrous, but he can play golf, and play it better in Spain where he has three top-10s from his last 11 starts.
With the obvious impetus to gain ranking points here this week, expect that extra effort to finish close to his 2021 ranking of inside the top-100.